Israels utrikesminister Yair Lapid talar med utrikesminister Ann Linde, som fördömer terrorism och stöder Israels säkerhetsbehov.
Utrikesminister Yair Lapid meddelade på måndagen att han talat med sin svenska motsvarighet. Detta är det första samtalet mellan nationernas toppdiplomater på sju år.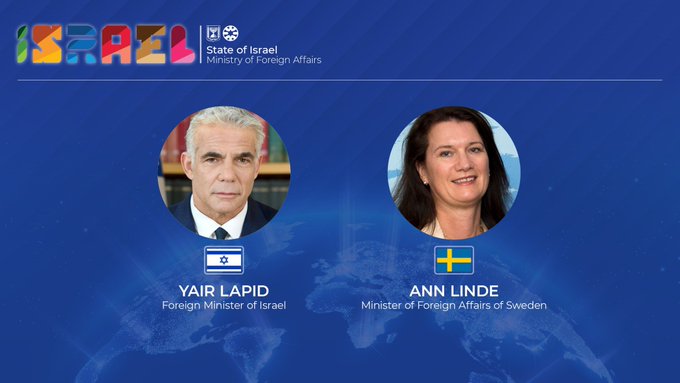 I appreciate her statement regarding Sweden's strong and solid commitment to the security of Israel and her recognition in the course of our conversation of Israel as the homeland of the Jewish people.
We discussed Israel's participation at the Malmo Forum on Holocaust remembrance. I look forward to increased cooperation with Sweden on bilateral and multilateral issues.
Linde twittrade på onsdagen en judisk nyårshälsning med att samtalet var ett "tillfälle för mig att önska honom Shana Tova och betona vikten av vårt bilaterala förhållande."
Huruvida man diskuterade Sveriges deltagande i Durban IV eller ej, vet vi inte.
Förbindelserna försämrades 2014 sedan Sverige erkänt den palestinska staten. Förra utrikesministern Margot Wallström kallade sedan israeliska militärens försvar mot terrorattacker mot civila för "utomrättsliga avrättningar" och krävde grundlig utredning. I november 2015 förklarade hon att terrorattackerna i Paris berodde på att så många människor hade blivit radikaliserade på grund av den israelisk-palestinska konflikten. Detta innebar en ytterligare djupfrysning av förbindelserna