2004 införde PA "Lagen om fångar och frisläppta fångar" där PA fastslog sin egen skyldighet att betala månadslöner till terrorister. Dessa löner kombineras med PA:s 2010 års regeringsföreskrifter " Angående reglering av utbetalning av månadslön till fångarna", som skapar löneskalan enligt vilken PA betalar terrorister som sitter fängslade, men även efter frigivning.
Palestinian Media Watch har uppgifter på hur mycket terroristen Ra'ad Hazem från Jenin på Västbanken inkasserade till sin familj för dådet.
Utöver månadslönen betalar PA också månatliga bidrag till familjerna till döda terrorister, som mördat oskyldiga pojkar, flickor, fäder och mödrar. Betalningarna genomförs och administreras av PLO:s "Families of the Martyrs and Wounded Institution" – en institution som helt och hållet finansieras av PA.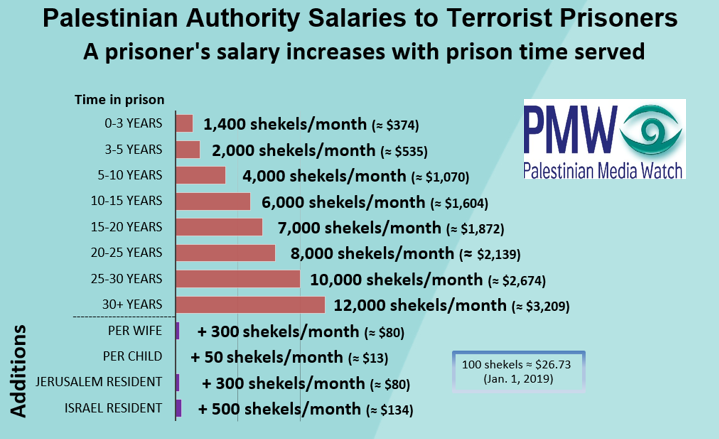 Av tabellen kan man räkna ut att en livstidsdömd proffsterrorist som är 30 år vid dåden och lever till 70 år, kammar hem nästan 18 miljoner kronor.
Om man bor i Jerusalem, var gift och hade tre barn, vilket är genomsnittet för palestinier, betalar PA totalt 95 000 kronor per år till familjen om man dör i angreppet.
Om "martyren" är 30 år vid dådet och änkan lever till hon är 70 år ger det familjen sammanlagt en belöning på 3,8 miljoner kronor. Den betalas nämligen till familjen på livstid.
Enligt uppgifter är månadslönen för en låginkomsttagare på Västbanken och Gaza 1 385 shekels, vilket innebär en årsinkomst på 48 947 kr. En låglönearbetare kan alltså öka inkomsten till sin familj rejält genom att mörda judar.
Trots en självorsakad finanskris som ledde till generella löneminskningar, betalade PA ut alla belöningar till både de fängslade terroristerna och till "martyrernas" familjer. Under januari till maj 2019 betalade PA 620 miljoner kronor bara till dömda terrorister. Då har man inte räknat in de som dog i sina attentat.
Så, om du tycker livet är pest, har svårt att hitta ett jobb och skyller på Israel istället på din egen regering – som 84% tycker är korrupt – kan du mörda en jude. Då får din familj en god, tryggad ekonomi för resten av sina liv och du blir hyllad av befolkningen som en modig hjälte. Pengarna kommer bland annat från svenska folket, som inte kan hindra flödet in till PLO:s martyrfond.